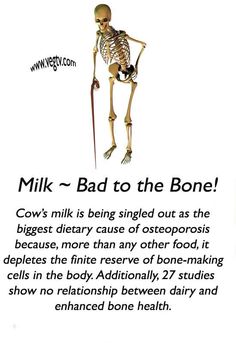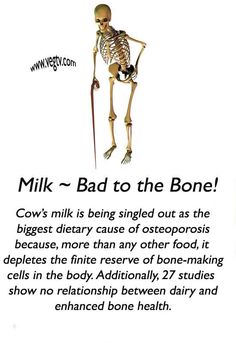 "You put a baby in a crib with an apple and a rabbit. If it eats the rabbit and plays with the apple, I'll buy you a new car."
~ Harvey Diamond
Our Mylks are natural cold-pressed nut and seed beverages that are made fresh and to order, with organic nuts and seeds. They are free of dairy, preservatives, refined sugars, soy and gluten.
Our nut mylks are great healthy substitutes for dairy. They are cold-pressed, meaning that you get the most nutrients out of them with minimal processing, and are excellent sources of nutrients such as proteins, minerals and healthy fats.
1- Praline Mylk: Pecan, dates, coconut oil, vanilla bean, Himalayan salt, filtered water
2- Hemp Mylk: Hemp seeds, filtered water, coconut oil, vanilla bean, Himalayan salt, dates
3- Beautify Mylk: Pumpkin seeds, dates, vanilla bean, coconut nectar/agave, Himalayan salt, filtered water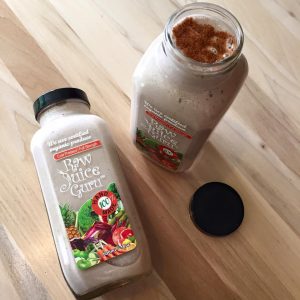 4- Cashew Nog: Cashews, filtered water, banana, coconut oil, agave, vanilla bean, cinnamon, nutmeg
5- Vanilla Sesame Mylk: Sesame seeds, filtered water, dates, banana, vanilla bean,
6- Pecan Nog: Pecans, filtered water, dates, cinnamon, nutmeg, vanilla beans
7- Almond Mylk: Almonds, dates, cinnamon, cacao nibs, sea salt, filtered water
8- Banana Mylk: Banana, coconut water, dates, vanilla bean
9- Aloe love Mylk: Banana, celery, aloe vera, dates, filtered water
10- Shades of Grey: Almond butter, sesame tahini, dates, vanilla bean, sea salt, filtered water
11- Sweet Tiger: Tiger nuts, dates, mixed spices, filtered water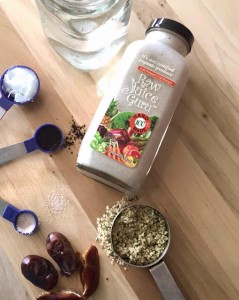 12- Cacao Tiger: Tiger nuts, organic raw cacao, dates, mixed spices, filtered water
13- Coconut Baobab Mylk: Coconuts water, coconut mean, filtered water, Baobab
14- Coconut Mylk: Coconuts water, coconut meat, Vanilla bean, cinnamon, filtered water
15- Mint Chocolate Chip: Almond/cashew mylk, banana, cacao nibs, mint, vanilla bean, sea salt
16- Sunshine Mylk: cashew/almond mylk, Goji berries, orange, banana, camu camu
17- Green Mylk: Cashews, dates, coconut oil, sea salt, spinach, filtered water