Experience the Power of Living Raw Juice and Food
"You are what You eat. Every 28 Days, your skin replaces itself. 5 months for your liver and 10 years for your bones. Your body creates new cells from the Food you eat or Drink. You have a choice in what you are made of"
Payment:
You can pay online or by phone (to pay by phone use option on checkout page to call in with credit card)
1800 831 9028, all major credit cards are excepted.
Juice Cleanse Tailored from 900+ kinds of raw juices
The Juice Cleanse Standard60
3 to 5 days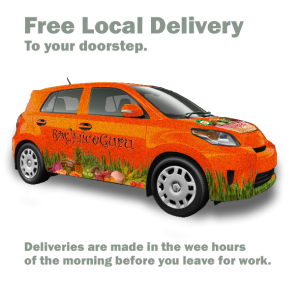 In order to guarantee delivery, do give us 24 hours notice on what day you would like to start. Delivery happens daily from monday to sunday 7 days a week within our delivery zones. We deliver daily between 2am and 9am in the mornings. Your delivery is left daily outside your home door, or at concierge or door if in condo. Please arrange your delivery with us by telling us what time you wake up and what time you go to work. There is a 6 bottle minimum for within our free delivery zones. If you live outside our free delivery zones, there is an 18 bottle minimum. Regions with paid delivery we delivery 2 to 3 days at a time to save you on delivery charges. All this can be coordinated by calling 1800 831 9028.
Delivery Areas
Toronto (Etobicoke, North York, Downtown, Midtown, Scarborough)- Free Delivery
Peel Regions (Mississauga, Brampton)- Free delivery
Peel Regions (Bolton, Caledon)- Delivery charges
Halton Regions (Oakville)- Free Delivery
Halton Regions (Burlington, Milton)- Delivery Charges
York Regions (Richmond Hill, Aurora, King, Markham, Vaughan)- Free Delivery
York Region: (King, Schomberg, Kleinberg, Aurora, New market, East Gwillimbury, Georgina)- Delivery Charges
Durham Regions (Pickering, oshawa, whitby etc)- Delivery Charges
Hamilton Region- Delivery Charges
Niagra Regions- Delivery Charges
Barrie Region- Delivery Charges
Kitchener and London Area- Delivery Charges
SHIPPING Canada– Email us for shipping information to Provinces of Quebec, New Brunswick, Newfoundland, British Columbia, Alberta, Saskatchewan, PEI, Nova Scotia.