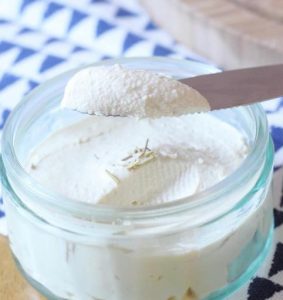 This vegan cashew cream cheese is exceptionally easy to make: just pop all of your ingredients into a high powdered food processor (Like vitamix) and blend until creamy. How long you need to blend for will depend on your equipment – this took less than a minute in the Vitamix – so keep checking as you go. Without a Vitamix or equivalent, it may take significantly longer but I haven't tested this. If it comes out too thick, adding a little water should get you to your desired consistency.
Raw Vegan Cashew Cream Cheese
A creamy dairy-free spread that's perfect on a bagel, with fruit or anything you would normally put cheese on.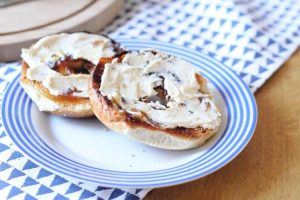 -60g plain cashew nuts, soaked in hot water for at least an hour
-1tbsp garlic-infused oil
-1 tbsp lemon juice
-1 tsp apple cider vinegar
-Pinch of dried rosemary
Instructions:
-Drain the cashews and add into a high-powered blender along with the oil, lemon juice and apple cider vinegar.
-Blend for around 1 minute in a high powered blender, or around 3-5 minutes (or longer if needed) in a lower powder unit, until it has formed a smooth, thick paste that resembles cream cheese. If it is too thick, then add a little warm water.
-Transfer to a small dish and sprinkle over the dried rosemary. Serve on a hot bagel or use as a substitute to cream cheese in any other dish!
-Store in an airtight pot in the fridge for up to three days.
Notes
The garlic-infused oil can be substituted for one tablespoon of plain rapeseed or olive oil and one small crushed clove of garlic but the taste from the garlic will be stronger.
Depending on the strength of your blender, you may need to soak the cashews for longer or blend for longer. Older cashew nuts will also need soaking for longer than fresher ones.