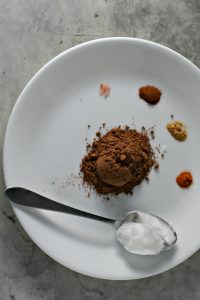 Not only are we using raw cacao powder not to be confused with cocoa powder which is processed. We also added ginger, cinnamon, turmeric and coconut oil, which are all immune boosting and anti-inflammatory ingredients. Which makes this hot chocolate a superfood. Drink up and enjoy. But first let's talk about the health benefits of these raw and plant based ingredients.
Cacao: Contains high amounts of magnesium and high levels of flavonoids, an antioxidant responsible for decreasing inflammation and ridding the body of free-radicals. If possible, buy raw cacao powder instead processed cocoa powder. Cocoa powder is heated to high temperatures, which destroys some of its healing qualities.
Ginger: A reliever to GI upset, but also a potent anti-inflammatory. Gingerols, a substance found in ginger is responsible for decreasing pain and inflammation in people suffering from osteoarthritis and rheumatoid arthritis.
Cinnamon: Similar to ginger, cinnamon has anti-inflammatory and antioxidants properties. Some studies even suggest that cinnamon helps with insulin resistance.
Turmeric: A very potent anti-inflammatory agent due to curcurmin, the compound that gives turmeric its bright yellow color. In addition to decreasing inflammation and pain in those suffering from arthritis, turmeric protects cells from oxidative stress.
Coconut Oil: Contains lauric acid, which may fight off bacteria, fungus and viruses. Also, a good source of medium chain triglycerides that contain anti-aging properties.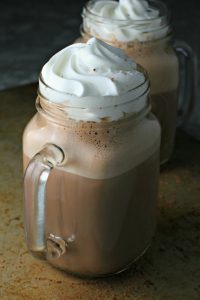 Ingredients:
2 cups of milk of your choice (hemp, soy, almond, etc.)
1 teaspoon pure vanilla extract
¼ teaspoon cinnamon
¼ teaspoon ginger
¼ teaspoon turmeric
2 tablespoons cacao powder (or cocoa powder if you don't have cacao!)
2-3 tablespoons maple syrup (adjust according to your taste)
2 tablespoons coconut oil
pinch sea salt
Instructions:
-Warm all ingredients in a saucepan over low heat, whisking occasionally.
-Transfer to a blender and pulse until frothy.
-Top with coconut, soy or rice whip for fun!
Enjoy!