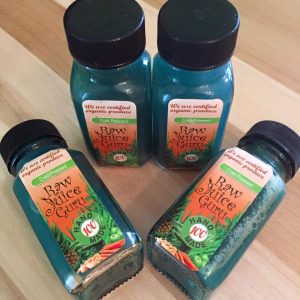 "Say hello to my little friend" scarface ?
The Majik Bomb:
One of many new combinations coming with the superfood and amazing ??Blue Majik? .
Next week you will meet Majik Guru: a sweet combination of pineapple, coconut next, mint, and a few screw ingredients to be revealed soon. This juice will make our number at 958 yes we are actually counting.
So what is Blue Majik I hear you all asking?
It is a certified, organic proprietary extract of Arthrospira platensis, a nutrient-dense aqua botanical cultivated from the pristine Klamath Lake in Oregon. It is made up primarily of Phycocyanin, a powerful antioxidant which can quench free radicals and has been shown to be a potent natural COX-2 inhibitor.
Is an amazing water-soluble blue pigment that gives its bluish tint. Phycocyanin is only found in blue-green algae like Spirulina—you can't get it in other foods. Phycocyanin is so effective as an anti-inflammatory, immune enhancer, and superb detoxifier for the kidneys and liver.
So Blue Majik is an extract of spirulina