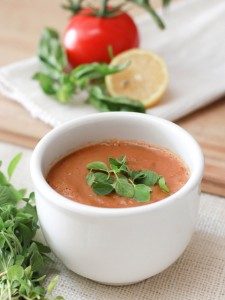 Looks tasty, right?! I actually like to call this Superfood Soup because the health benefits of this soup are HUGE!! First, it is completely raw, meaning it has not been cooked. Thus preserving the enzymes.
"Enzymes are substances that make life possible. They are needed for every chemical reaction that takes place in the human body. No mineral, vitamin, or horomone can do any work without enzymes. Our bodies, all organs, tissues, and cells are run by metabolic enzymes." – Dr. Howell, Enzyme Nutrition
Second, it is bursting with lycopene (from the tomatoes), an antioxidant highly effective in scavenging cancer causing free radicals. The lycopene in tomato fights against cancer and has been shown to be particularly effective in fighting prostate cancer, cervical cancer, cancer of the stomach and rectum as well as pharynx and oesophageal cancers. It also protects against breast cancer and cancer of mouth according to studies published by Harvard School of Public Health. Tomatoes are also excellent in supporting the health of the eyes, skin, urinary tract and supports healthy cholesterol and blood pressure.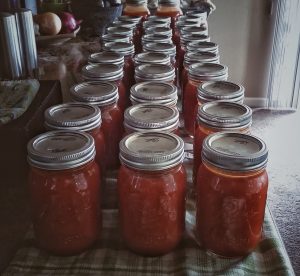 Third, we've got celery which is rich in vitamin C, helps to lower cholesterol, prevent cancer, reduce high blood pressure, and promote overall health. Because of it's high calcium content, celery can help calm the nerves. Celery is also good for people suffering from arthritis, rheumatism and gout since its anti-inflammatory properties help reduce swelling and pain around the joints.
Fourth, the Mighty Avocado! The monosaturated fats in avocados not only help in reducing LDL cholesterol but are also good for the heart, skin, eyes, weight control, anti-aging, digestion, and regulating blood sugar. Did you know avocados contain 30% more potassium than banana? The high potassium content helps in regulating blood pressure and prevents circulatory diseases. Avocados have numerous phytonutrients which not only prevent prostate cancer and breast cancer but also can help repair damaged cells. Avocados are also a powerhouse of vitamin E which protects our skin from free radicals.
With all those incredible health benefits who wouldn't want to try this soup?! It's delicious, PACKED with AMAZING nutrition.