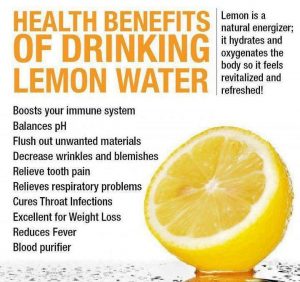 A glass of lemon juice contains less than 25 calories. It is a rich source of nutrients like calcium, potassium, vitamin C and pectin fibre. It also has medicinal values and antibacterial properties.
16 Health Benefits Of Drinking Warm Lemon Water
1- Lemon is an excellent and rich source of vitamin C, an essential nutrient that protects the body against immune system deficiencies
2-Lemons contain pectin fibre which is very beneficial for colon health and also serves as a powerful antibacterial
3- It balances to maintain the pH levels in the body
4- Having warm lemon juice early in the morning helps flush out toxins
5- It aids digestion and encourages the production of bile
6- It is also a great source citric acid, potassium, calcium, phosphorus and magnesium
7- helps prevent the growth of bacteria that cause infections and diseases
8- It helps reducing pain and inflammation in joints and knees as it dissolves uric acid
9- It helps when you are sick and coming down with a cold.
10- The potassium content in lemon helps nourish brain and nerve cells
11- It strengthens the liver by providing energy to the liver enzymes when they are too dilute
12- It helps balance the calcium and oxygen levels in the liver In case of a heartburn, taking a glass of concentrated lemon juice can give relief
13- It is of immense benefit to the skin and it prevents the formation of wrinkles and acne
14- It helps maintain the health of the eyes and helps fight against eye problems
15- Aids in the production of digestive juices
16- Lemon juice helps replenish body salts especially after a strenuous workout session
Get on the lemon water bandwagon, Its a habit that should be done daily, especially right when you wake up.
How much lemon to put in your water?
squeeze or juice one lemon and add to 1 litre of water. ENJOY.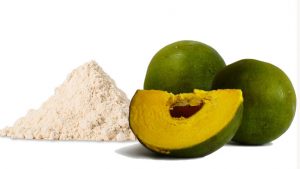 Lucuma is sweet, but low on the glycemic scale, so it is perfect for anyone looking to decrease their sugar consumption. The flavor is similar to caramel or maple, so it lends itself to a wide variety of sweets. For breakfast, add a tablespoon of lucuma powder to smoothies, yogurt, and oatmeal. You can of course use it in desserts as well by blending it into pudding, cakes, cookies, candies, and bars.
Lucuma contains antioxidants, good amounts of fiber, healthy carbohydrates, and minerals such as zinc, calcium and iron. Judging the by the bright, yellow-orange hued flesh, we know that it is packed with beta-carotene, a powerful anti-carcinogenic compound.
Given it's fruity flavour, Lucuma can be used as a natural low GI sweetener. This makes it safe for diabetics, and great for the rest of us to help stabilise blood sugar (critical for all bodily cell function), and even out energy levels. It can be substituted for regular sugar in a 2:1 ratio (2 Tablespoons Lucuma for every 1 Tablespoon sugar).
Lucuma's rich antioxidant content means it helps to fight and prevent disease, and slow the aging process. The fruit is used as a natural healing medicine in South America, due to its antibiotic, antimicrobial and antifungal properties.
As a fruit, Lucuma is full of healthy carbs. That's right, Healthy + Carbs (you haven't heard those two in a sentence for a while right). Whole food carbohydrates are essential for the body, providing energy and fuel, and helping our brain to function. Ever wondered why you can't concentrate after a carb-restrictive day? Precisely. Paleo-peeps you especially need to increase your whole food carbohydrate intake given your lack of grains. Lucuma is a perfect way to do that.
Lucuma has the same amount of calcium as a glass of cow's milk, as well as plentiful amounts of beta-carotene (an anti-carcinogen), zinc, iron, vitamin C, niacin (B3), and fiber. It also contains 14 essential trace minerals.
Smoothie for you to try with Lacuma, experiment and have fun.

Chia, Lucuma, Coconut Smoothie
1 Cup almond milk
1 Cup water
½ Cup coconut milk (or 3 frozen coconut milk cubes are even better)
½ very ripe banana
1 t cinnamon
2 t lucuma powder
1 T chia seeds
½ t stevia or 1 t agave
Preparation
Blend.
Drink.
Love.