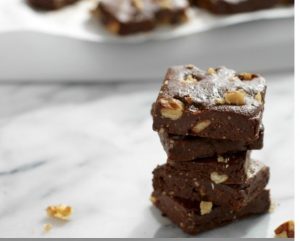 Calling all chocolate lovers. This no bake Brownie recipe is for you.
These babies are really chocolatey thanks to a big dose of raw cacao but that also means they offer a big dose of flavanoids – a class of antioxidants that appear to promote general health and may lower your risk for heart disease and certain cancers. They also contain coconut oil and a handful of omega-3 fatty acids from walnuts.
Brownies were never so healthy yet so rich and chocolatey until these. Made with only wholesome ingredients they're a treat you can feel good about enjoying and sharing.
Serves: 16 Brownies
INGREDIENTS
½ cup almond butter
½ cup coconut oil
2 Tbsp. maple syrup
¾ cup raw cacao or baking cocoa
Pinch of sea salt (if almond butter is unsalted)
2 Tbsp. coconut flour
¼ cup raw walnuts, roughly chopped
INSTRUCTIONS
Place almond butter, coconut oil, maple syrup, salt and cacao powder in the bowl of a food processor. Process just until blended, stopping to scrape down sides as needed.
Stop processor and add coconut flour. Process just until a ball of dough starts to form.
Transfer dough to a clean bowl. Add walnuts and stir to incorporate.
Press dough into an 8×8-inch pan lined with parchment paper or use your hands to pat dough into an 8×8-inch square on a parchment paper-lined tray or small baking sheet.
Place on plate in the fridge and allow to chill at least 30 minutes.
Cut into 16 squares. Store in a covered container in the fridge for up to 1 week. May be frozen for longer storage.