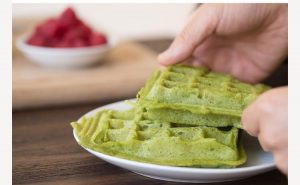 Gluten free, vegan, dairy free organic Matcha waffles
Ingredients: Serves 3-4 waffles
2 tsp Organic Matcha
1.5 cup gluten-free flour
1 tsp baking powder
1/4 tsp baking soda
1 tbsp coconut oil
1.5 cup coconut milk (adjust to match the density of your flour)
Natural sweetener of your choice: e.g., organic maple syrup.
Toppings you love: Blueberry, raspberry, coconut flakes, almond flakes.
Instructions:
-Add all dry ingredients to a large batter bowl and pour in the coconut milk.
-Blend them until smooth. An immersion blender blends them very well.
-Preheat your waffle maker and then spray it with olive or coconut oil.
-Cook batter according to your maker's typical cooking time (mine is about 5 mins).