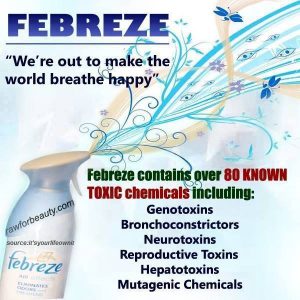 The first thing that is really important to understand: the product does not remove odor molecules and it doesn't clean the item it comes into contact with.
The odor molecules are still there. Your nose just can't perceive them because you smell the chemical product instead.
That alone should be your first warning. We know inhalation of any chemicals is dangerous, and several of its ingredients listed below are known to irritate the lungs…but this is a chemical whose entire purpose is to be inhaled!
Unfortunately there is not much data being shared on Febreeze and their many products, but the Environmental Working Group (EWG) did conduct a test for the ingredients of one of their products, Febreeze Air Effects.
Shockingly, P&G only disclosed THREE ingredients in this product, but the EWG…they found 87 chemicals in total!
Now this is just one Febreeze product, but the fact that only 3 ingredients were disclosed and that so many undisclosed ingredients are dangerous, it's safe to assume that their other air fresheners are just as dangerous.
Febreeze Ingredients
Below you'll find a list of just some of the 87 chemicals found by the EWG in Febreze Air Effects, listed in order of their toxicity to humans:
BHT – Known as a neurotoxin, endocrine disruptor, immunotoxicity, non-reproductive organ system toxicity, skin eye and lung irritator
Acetaldehyde – Known to cause cancer, toxic to reproduction and development, immunotoxin, non-reproductive organ system toxin, skin, eye and lung irritator
"Fragrance" – One of the three ingredients actually disclosed, it's a neurotoxin, immunotoxin and allergen
Propylene Glycol – Causes cancer, allergies, toxic to immune system, accumulates in the system, non-reproductive organ system toxin, is classified with "enhanced skin absorption" and irritates the skin, eye and lung
1,3-Dichloro-2-propanol – Carcinogenic (causes cancer)
Limonene – Allergen, immunotoxin and skin, eyes and lung irritator
Methyl pyrrolidone – Toxin to reproduction and development, allergen and immunotoxin, non-reproductive organ system toxin and skin, eyes and lung irritator
Alcohol denatured – Also disclosed in the ingredients of Febreeze, it's linked to cancer, developmental/reproductive toxicity, organ system toxicity and skin, eyes and lung irritator
Butylphenyl methylpropion al – allergen, immunotoxin and and skin, eyes and lung irritator
Ethyl acetate – linked to developmental/reproductive toxicity, neurotoxicity, organic system toxicity and and skin, eyes and lung irritator
Geraniol – Linked to allergies, immunotoxicity, organic system toxicity and and skin, eyes and lung irritation
Linalool – allergen, immunotoxin, and and skin, eyes and lung irritator
Benzaldehyde – neurotoxin, and skin, eyes and lung irritator
Diethylene glycol monoethyl ether – non-reproductive organ system toxicity
Ethylhezanol – developmental and reproductive toxin and skin, eyes and lung irritator
Hexyl cinnamal – allergen, immunotoxin and skin, eyes and lung irritator
And way too many more..
..
http://www.ewg.org/…/greener-s…/school-cleaner-test-results…