Carrot cake for lunch, breakfast anyone or anytime for that matter ? High protein, vegan, grain free, gluten free, sugar free, dairy free, and its VEGETABLES so you can stuff your face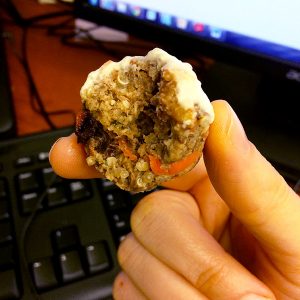 CARROT CAKE QUINOA BITES
Serves: 12-22
Healthy, quinoa carrot cake bites. Full of fiber, protein and naturally sweetened, these vegan bites are my favorite way to start the day! It's everything you love about carrot cake with none of the negative consequences to your insulin levels!
INGREDIENTS
½ cup cooked quinoa
2 tbs. date puree (4-5 dates soaked and pureed)
2 carrots, grated
1 tsp. chia seeds
1 tsp ground flax
1 tsp. cinnamon
1 tbs. coconut flour
3 tbs. cashew milk
3 tbs. hemp seeds
2 tbs. chopped walnuts
2 tbs. chopped raisins
4 scoops stevia (1-2 packets of sweetener of choice)
1 tsp. vanilla
Optional: 2 scoops plant based vanilla protein powder (Sunwarrior, vega or any protein you like)
6 tbs. unsweetened cashew milk
For the frosting:
1½ tbs. coconut butter
2 tsp. maple syrup
3 tbs. cashew milk, unsweetened
1 tsp. chia seeds, preferably white
INSTRUCTIONS
-Cook and cool quinoa.
-Soak dates in hot water 20 minutes, puree or mash with fork.
-In a small bowl combine cocout butter, maple syrup, cashew milk and chia seeds. -Microwave for 20 seconds to get all ingredients to the same temperature. Stir to combine and place in fridge while you assemble the carrot cake bites.
-Grate carrots into a large bowl. Add quinoa, date puree, chia, flax, cinnamon, coconut flour, cashew milk, hemp seeds, stevia and vanilla extract. Stir with a spoon until all ingredients are thoroughly combined.
-If you are adding the optional protein powder, add it and the additional cashew milk to the bowl. Stir until all the protein powder has been integrated into the quinoa mixture.
-Chop walnuts and raisins and add to the mixture, making sure they are evenly distributed.
-Roll the mixture into equal sized balls, using a tablespoon to evenly measure out the mixture. I simply scoop out a tablespoon worth of batter into my hands and roll into a ball.
-The recipe will make 12-14 balls without protein powder and 20-22 ball with protein powder.
-Take the frosting out of the fridge, dip half the ball into frosting and set on a plate or tupperware covered in wax paper.
-Place in fridge overnight or freeze for 15-20 minutes to get the coconut butter frosting to set.