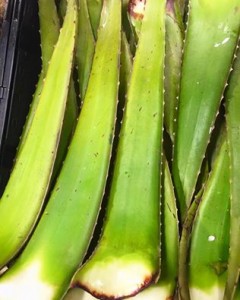 Our Fresh weekly delivery of aloe Vera.
Benefits of Aloe Vera
1. Aloe Vera Is High in Vitamins & Minerals:
Aloe Vera is also one of the few plants that contains vitamin B12.
2. Aloe Vera is High in Amino Acids & Fatty Acids.
Aloe has 20 amino acids, with all 8 essential amino acids. Aloe vera also includes quite an impressive range of fatty acids. Aloe contains three plant sterols, which are important fatty acids – HCL cholesterol , campesterol, and B-sitosterol.
3. Aloe Vera is an Adaptogen.
Aloes power as an adaptogen balances the body's system, stimulating the defence and adaptive mechanisms of the body. This allows you an increased ability to cope with stresses of environment.
4. Aloe Helps with Digestion.
Aloe soothes & cleanses digestive tract & improves digestion. because aloe is an adaptogen, it helps with constipation or diarrhea, helping to regulate elimination cycles. It's great for people irritable bowel syndrome & acid reflux. Aloe also helps to decrease the amount of unfriendly bacteria in our gut keeping intestinal flora in balance.
5. Aloe Helps in Detoxification
Aloe Vera is a gelatinous plant food, just like chia seeds. The main benefit to consuming gelatinous plant foods in your diet is that these gels move through the intestinal tract absorbing toxins along the way and get eliminated through the colon.
6. Aloe Alkalizes the Body.
7. Cardiovascular Health.
8. Aloe Helps Boost the Immune System. The polysaccharides in aloe vera juice stimulate macrophages, which are the white blood cells of your immune system that fight against viruses.
9. "Don't put anything on your skin that you wouldn't eat!" Aloe increases the elasticity of the skin making it more flexible through collagen and elastin repair. It helps supply oxygen to the skin cells, increasing the strength & synthesis of skin tissue & induces improved blood flow to the skin through capillary dilation.
10. Aloe vera is a: Disinfectant, Anti-biotic, Anti-microbial, Germicidal, Anti-bacterial, Anti-septic, Anti-fungal & Anti-viral.
11. Aloe Helps Reduce Inflammation.
Aloe Vera contains 12 substances, including B-sisterole, which slows down inflammation.