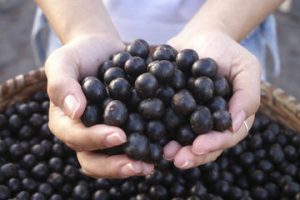 Acai berries are a great source of fiber and healthy fats. They increase energy production in the mitochondria, keep you hydrated, and help your body fight against oxidative stress, as it is said that their antioxidant benefits are higher than most of the other berry fruits, including blueberries.
Smoothie:
Frozen Blueberries
Frozen Strawberries
½ Banana
¾-1 cup Almond Milk (or any nut milk of your choice)
1 teaspoon Acai Powder or 1 pack of frozen Acai
Toppings:
-½ Banana, sliced
-Fresh blueberries
-Fresh strawberries, sliced
-Granola of your choice
-Coconut Flakes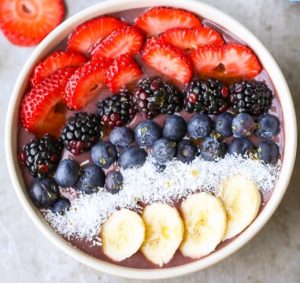 >strong>Instructions
1- Put all the smoothie ingredients into a blender.
2- If the mixture is having trouble blending, add more Almond Milk or water
3- Blend until the smoothie is smooth
4- Pour the smoothie mixture into a bowl
5- Top with desired ingredients. You can add what you want. Trust me you can't go wrong.
Serve and enjoy!