Creamy and delicious raw vegan milk that's just as good as almond milk but without the nuts!
This mylk is awesome for everyone especially anyone who who's allergic to nuts, oats, rice, soy or any other ingredient that's been transformed into a dairy-free milk.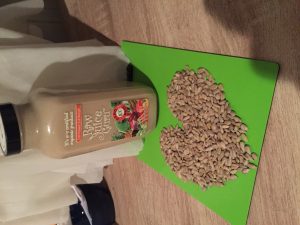 BENEFITS OF SUNFLOWER SEEDS
I bet you're wondering, 'Why make milk out of Sunflower seeds?' I'll tell you wh?
Because they're high in vitamin E and vitamin E keeps our immune system rockin' and our skin glowing. We all like glowing skin.
Also, they're loaded with magnesium that helps keep our bones strong and our muscles chilled out and relaxed.
Lastly, you'll find a bunch of selenium in these little guys, the trace mineral that helps repair your DNA.
Little power bombs, these guys are.