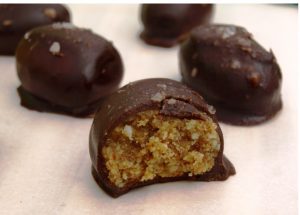 If you're looking to make an easy last minute Easter treat, these Salted Dark Chocolate Almond Butter Eggs are the perfect choice!they have simple ingredients… no corn syrup solids, GMOs, TBHQ, or PGPR, or any other weird acronym-ed ingredients you didn't know were lurking in your favorite commercial peanut butter egg. Also, they are free of eggs, dairy, or refined sugar.
Salted Dark Chocolate Almond Butter Eggs
Makes about a dozen small eggs
Ingredients
Chocolate Coating:
3 tablespoons of coconut oil
2 tablespoons of cacao or cocoa powder
1 tablespoon of maple syrup or honey
Filling:
-1/3 cup almond butter (or peanut butter)
-1/4 cup almond meal (I ground my own from raw almonds in my food processor) or you can use half almond meal and half freshly ground oats
-1 tablespoon of coconut oil
– 1 to 2 tablespoons of maple syrup or honey (or date syrup or other liquid sweetener of choice)
-1/4 tsp of finely ground himalayan pink -salt
-extra himalayan pink salt, course ground for sprinkling on top
1. Add the nut butter and coconut oil to a small pot and warm over low heat until coconut oil is melted. Remove from heat and stir in the maple syrup or honey. Add the almond flour (or almond flour/oat flour combination) and salt and mix well. It should form a very soft dough. Taste for sweetness, and add more sweetener if desired. If it seems too runny, add more almond flour or oat flour, a little at a time. It will firm up more when you cool it. Transfer the mixture to a glass container with a lid and put it in the freezer for about 20-30 minutes.
2. Remove filling from freezer and, using a teaspoon, scoop out a small amount and use your hands to roll it into an egg shape. Place the eggs on a parchment lined tray or plate and transfer back to the freezer for about 5 minutes.
3. While the eggs firm up, make the chocolate coating. Melt the coconut oil over low heat just until melted. Stir in the cacao or cocoa powder and sweetener. Taste and add more cocoa or sweetener to taste.
4. Take your almond butter eggs out of the freezer and using a spoon, dip them one at a time into the chocolate sauce. The chocolate will start to harden on contact. Transfer the coated eggs back to the parchment paper and place back in the freezer. After a few minutes, you can repeat the process, if you'd like a thicker chocolate coating. Sprinkle a few grains of course himalayan salt on each egg immediately after adding the last layer.