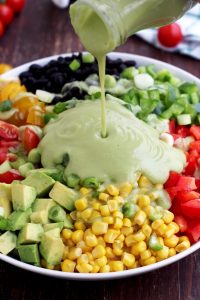 Vegan Mexican Chopped Salad
Easy and delicious gluten-free recipe of a vegan Mexican chopped salad with avocado dressing. Perfect lunch salad, packed with dietary fiber and protein.
INGREDIENTS
For the vegan Mexican chopped salad:
2 teaspoons olive oil
1 ear corn husks and silk removed
2 bell peppers red and green
4 medium-sized tomatoes red and yellow
1/2 red onion
2 scallions
1 avocado
170 grams or 1 cup pre-boiled or canned black beans
For the avocado dressing:
1 avocado
80 ml or 1/2 cup water (more to adjust the consistency)
2 tablespoons extra virgin olive oil
1 tablespoon lime juice
1/4 teaspoon cumin
salt and freshly ground black pepper to taste
INSTRUCTIONS
GRILL YOUR CORN: Use a broiler or a griddle pan. Heat a lug of olive oil over medium-high heat and grill the whole corn cob for 15 minutes, lid closed, turning every 5 minutes, until the cob has black burn marks here and there and the kernels are soft (you can check it by piercing the cob with a fork). Let it cool a bit and remove the kernels with a knife.
CHOP THE VEGGIES: While your corn is grilling, chop the veggies. Dice red and green bell pepper, red and yellow tomatoes, red onion, scallions and avocado and arrange on two plates, creating sections (or in any other way you like). Add pre-boiled (or canned) black beans and corn kernels.
MAKE THE DRESSING: Pit and peel avocado, add water, olive oil, lime juice, cumin, a pinch of salt and freshly ground black pepper and process with an immersion blender until smooth. Pour the dressing over the salad.