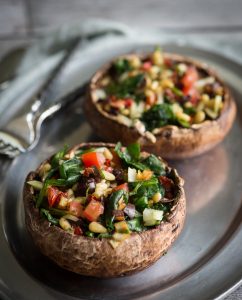 The raw vegan recipe was born for all our clients who ask "how did you make that" when they get their raw food meal deliveries. Here is one for you all to try and trust us it tastes amazing. Give it a try and let us know. Hard to resist a raw Mushroom stuffed with a flavourful, healthy filling made with tomatoes, onions, olives , spinach and pine nuts , topped with a creamy Cashew raw vegan sauce.
I put a little extra step in this recipe that isn't necessary, but I would suggest you take the time to do it. It contributes to what is called "flavor layering" and it has a big impact on the taste of the final dish. Flavor layering builds, expands and deepens the flavors that are already in your dish. In this recipe, I have taken part of the tomatoes and onions, marinated them, and dehydrated them for a bit. When mixed with the raw tomatoes and onions, the effect deepens and expands the flavor. You can use a low heat oven (not raw) to get the same effect. Just don't leave them in too long.
Raw Stuffed Mushrooms with Creamy Cashew Garlic sauce "
4 large portobello mushroom caps
3 cups diced tomato, divided
1 cup diced sweet onion, divided
1/4 cup plus 2 tablespoons tamari
2 tablespoons coconut nectar or liquid sweetener of choice
4 cups spinach, crushed
1/2 cup kalamata olives, chopped
1/2 cup pine nuts
Himalayan salt and pepper to taste.
Rub mushroom caps inside and outside with two tablespoons of tamari. Set aside. Place half the tomatoes and half the onions in a bowl.
Stir in the remaining 1/4 cup tamari and the coconut nectar. Make sure all the tomatoes and onions are coated.
Spread on a non-stick dehydrator sheet and dehydrate, along with the mushroom caps for 2-4 hours at 115 degrees.
When the tomatoes and onions are done, mix together with the remaining tomatoes, onions, spinach, olives and pine nuts. Salt and pepper to taste.
Spoon tomato mixture into mushroom caps and top with garlic cashew cream.
Cashew Garlic Cream
1 cup cashews, soaked overnight, drained and rinsed
1/2 cup water
1 clove garlic
1 teaspoon fresh rosemary, finely chopped
Himalayan salt and pepper to taste.
Blend cashews, water, and garlic in high-speed blender until smooth.Stir in rosemary, salt and pepper.