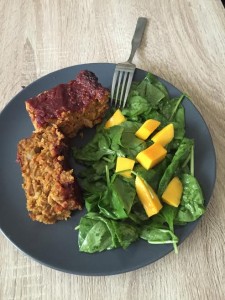 Vegan Chickpea Meatloaf:
You and your family will love this dish we promise. This hearty vegan meatloaf is made from chickpeas and baked up to perfection and topped with a flavorful glaze. It's not your meatloaf your mom or grandma makes but we promise it will be better. Try this recipe and let us know what you think.
This recipe has the protein, the right carbs and the perfect fats. Add a salad to the side and you have the perfect meal.
Enjoy
Ingredients
For the Chickpea Meatloaf
2-14 oz. cans or 3 cups cooked chickpeas, drained and rinsed
1 onion, diced
2 celery stalks, chopped
2 carrots, diced
2 garlic cloves, minced
2 cups breadcrumbs (we used 1 cup Glutino Bread crumbs and 1 cup of Spelt Bread crumbs)
½ cup almond milk
3 tbsp. vegan Worcestershire sauce
2 tbsp. soy sauce or tamari
2 tbsp. coldpressed olive oil
2 tbsp. ground flax seeds
2 tbsp. tomato paste
1 tbsp. BBQ sauce- we used Amazing Dads BBQ sauce in honey garlic and regular.
¼ tsp. black pepper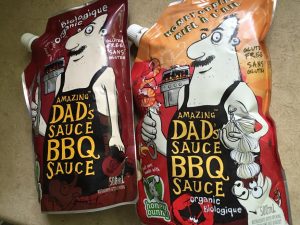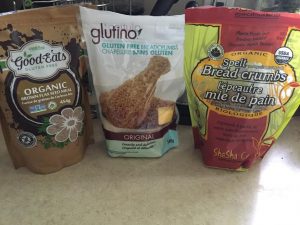 For the Glaze
¼ cup tomato paste
2 tbsp. Organic maple syrup
2 tbsp. raw apple cider vinegar
1 tbsp. soy sauce or tamari
1 tsp. paprika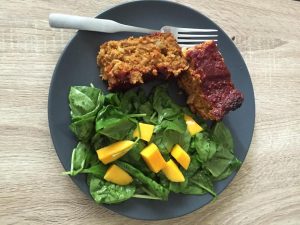 Preheat oven to 375°. Lightly oil a 9 inch loaf pan.
Place all meatloaf ingredients into food processor bowl and pulse until chickpeas are broken up and ingredients are well mixed, stopping to scrape down sides of bowl as needed. Do not overblend.
Press mixture into prepared loaf pan and bake 30 minutes.
While meatloaf bakes, stir glaze ingredients together in a small bowl.
Remove loaf from oven after 30 minutes and spoon glaze overtop of loaf. Bake another 20-25 minutes. Remove from oven and allow to cool at least 10 minutes before cutting.
The longer this sits, the firmer it gets. If it initially feels a bit soft for your liking, let it sit a for a few minutes or prep it a day in advance and reheat the day of serving.