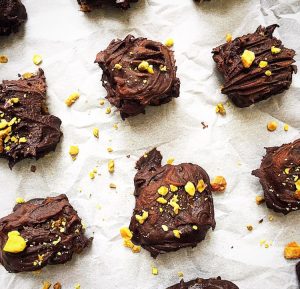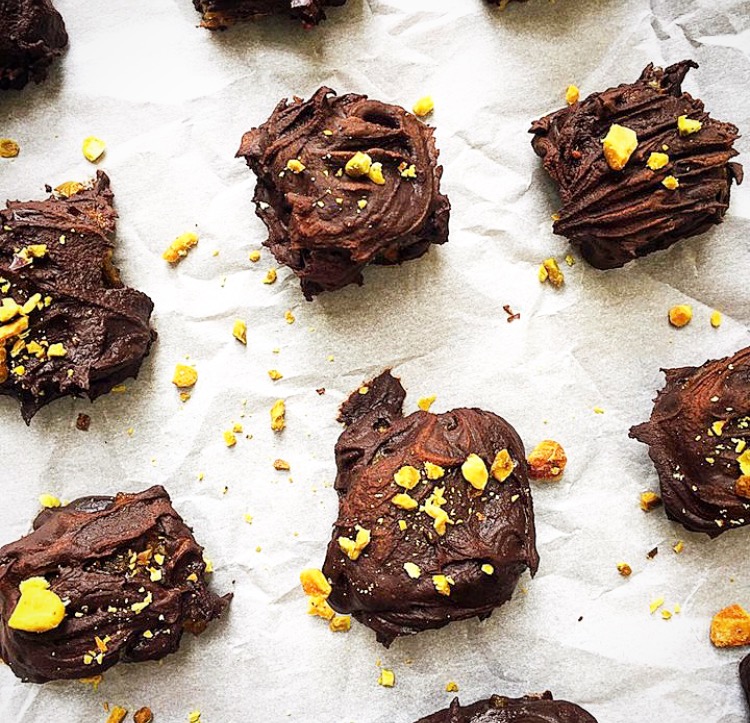 With only 8 ingredients, no oven and 15 minutes you can make these amazing raw vegan pistachios date clusters. They are vegan, vegetarian, gluten free, raw, and only naturally-sweetened. Also, they're delicious.
INGREDIENTS:
Date Caramel
2 cups pitted dates
1 tsp vanilla extract
¼ cup warm water
¼ cup + 2 tbsp raw shelled pistachios
1 tsp sea salt
Coating
¼ cup + 2 tbsp unsweetened cacao powder
2 tbsp cup coconut oil, liquid
1 tbsp maple syrup/agave/raw honey
2 tbsp crushed raw shelled pistachios, for topping.
INSTRUCTIONS:
-In a food processor, combine dates, warm water, ¼ cup and 2 tbsp pistachios, sea salt, and vanilla until a paste forms.
-Transfer paste to a foil-lined small 4×4 dish or square Tupperware. Spread evenly, cover, and freeze for 10 minutes.
-Meanwhile, combined cacao powder, liquid coconut oil, and maple syrup in a medium bowl with a whisk until homogenous.
-Remove pan from freezer and cut into squares. Dip each date square into the chocolate coating and sprinkle with remaining pistachios.
-Place each square on a lined baking sheet and return to freezer for 15 minutes.
Store in refrigerator.
And enjoy!!!