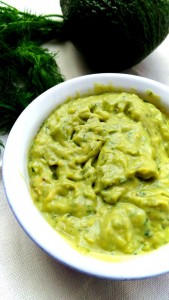 This avocado dill dip can bring a delicious wrap to that next level perfection. It's perfect for wraps, burritos, tortillas or tacos. It has a very fresh, yet fragrant flavor thanks to our buddy Garlic.
Avocado is great for your skin, your hair and your health. It prevents cancer, inflammation and is bursting with antioxidants. The green fat fruit with a huge seed inside, as my mother likes to call avocado, contains Biotin, which is an important vitamin for hair and nail strength.
Dill has antioxidant, anti-bacterial and anti-cancer properties. It contains a lot of Iron and Calcium – both important for skin health maintenance.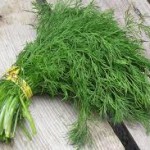 Lemon is highly alkalizing and full of Vitamin C, which is important for the synthesis of collagen – the protein, that holds the skin together and makes it nice and firm.
Garlic is not the one you want to mess around with – Garlic fights Cancer, Viruses, Fungi, Bacteria, Psoriasis, Acne, even Vampires and lowers blood pressure on top. It can also make your hair grow.
As you see the ingredients of this dip are pretty great on their own, but combined they're even more beneficial for your skin and health.
For example Vitamin C from the lemon increases the absorption of Selen from the garlic. Selen is an antioxidant mineral, shown to also prevent cancer.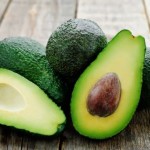 Further the combination of Vitamin C from Lemon with Vitamin E from Avocado increases the antioxidant properties of both vitamins, so evil free radicals have no chance at damaging your skin.
1 avocado
1/2 lemon – juice it
1 garlic clove
a bunch of dill
Instructions
Chop dill, peel avocado, remove the big seed (as my mom likes to call it – a green fat thing with a big seed inside), juice the lemon, squeeze the garlic clove and put everything in the blender. Blend until smooth and you're ready to dip!