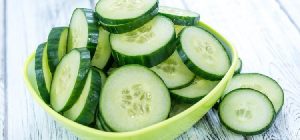 Have you had cucumbers today?
Here are seven reasons why you should have it daily.
Acidity: Fights Inflammation almost as well as any other food. This juice really does a good job at soothing gastric and duodenal ulcers.
Blood pressure: Helps regular blood pressure, as its trace minerals and traces of sodium benefits help keep the body from dehydration as well.
Connective tissues: Excellent source of Silica. So if you want to keep your connective tissues healthy, drink this frequently. Also the Silica helps make our skin and hair and nails beautiful.
Lower Body Heat: This juice when combined with Celery helps cool the body down from heat stroke or being overheated more than anything we know of.
Diuretic: Helps in the dissolution of kidney stones and helps the body urinate frequently because of its high water content. Great for women who have pre-menstrual tension. Drink a few quarts or liters of this TONIC we posted today and add 8 ribs celery to it, and you will easily lose the bloated feeling most women feel right before their periods.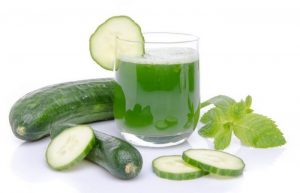 Inflammation: Cucumber can help eliminate inflammation in joints. This means it also help other inflamed conditions like arthritis, asthma, and gout. 1 Liter per day of this tonic, will help you achieve relief within just a few days.
Skin Conditions: Psoriasis, Eczema, rashes are helped when consuming this tonic for 30 days, 1 liter a day. Add 5 ribs Celery to this tonic to make it even more effective.